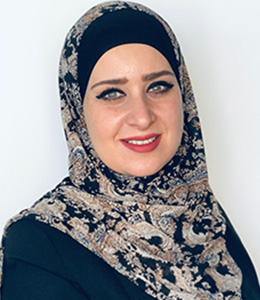 Palestinian Bar Association
Suad Jawan is a legal counselor at S&B. she is currently assuming the position of the Legal Coordinator – Southern Region at the International Legal Foundation in Palestine. Jawan graduated from Birzeit University in 2009 with a degree in Law. she worked at the Land Authority Department before joining the ILF in 2012, where she started as a trainee lawyer.
Jawan completed her training and obtained the BAR license to practice the law profession. She represented indigent defendants who were charged with crimes in the Palestinian courts. In 2014, Jawan became in charge of ensuring that ILF trainees are properly trained according to ILF policies. She later assumed the position of the Clinical and Training Coordinator, and she headed the Women in Law and Leadership (WiLL) program which focused on enabling and promoting women to take on leadership opportunities and raising their capacities as criminal defense lawyers to better represent their clients.
Suad also drafted a training plan for the trainee lawyers at the ILF to ensure quality of representation. Over the course of her career, Suad represented more than 500 clients in criminal cases, and actively mentored lawyers in more than 1,500 criminal cases. Moreover,
Suad also assisted in training 400 lawyers from the general assembly of the Palestinian Bar Association on the best practices of a criminal defense attorney. She also attended and actively participated in roundtable meetings with the Palestinian justice stakeholders. Suad participated in the training of lawyers in Tunisia and Libya on comprehensive representation of juveniles and positive youth development.
.