Hossam Al Sharif
Senior Associate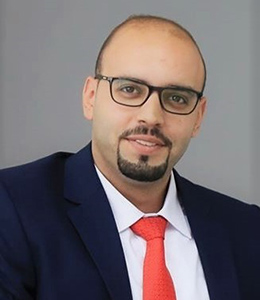 Palestinian Bar Association
Mr. Sharif is a Senior Associate at S&B. His main area of practice is in real estate and litigation. He is also very well experienced in press and publication, criminal and electronic crimes laws. He has been a member of the Palestinian Bar Association since 2013.
Mr. Sharif is an expert at managing sales, purchases and investments of real estates. He advises clients on complex commercial real estate matters to assist in achieving the highest possible return. He represents clients in the negotiations process, drafts the sale and purchase agreement, consummates the sale/purchase at the land authority, transfer of inheritance, apportionment of shares among heirs, division of lands and apartments, mortgage and removal of mortgage, and all other associated processes. He further assists clients in creating strategic investment plans.
He is also skilled in managing commercial centers and residential buildings, including preparing home-owners' association bylaws, creating investment and marketing policies, and preparing tenancy and investment agreements.
Mr. Sharif is highly experienced in real estate tax legal assistance. He establishes possible methods for tax payment, follows up with competent authorities on tax matters, prepares petitions on tax valuation issued by the Property Tax Department, and negotiates with tax authorities to reach a settlement which considers the client's best interest per the applicable laws and practices.
In addition, Mr. Sharif has extensive experience in civil and criminal proceedings before courts of all instances and is also skilled at leading settlements between conflicting parties.
Mr. Sharif obtained his Bachelor of Laws (LLB) degree from Birzeit University. He has been a member of Lawyers for the Rule of Law since 2016.