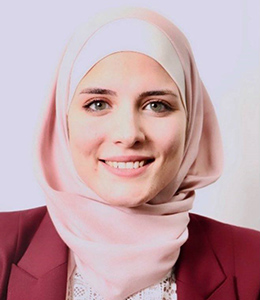 Birzeit University
Hebrew University of Jerusalem

Palestinian Bar Association
The Junior Palestinian Legal Experts (JPLE) group
Ms. Abu Meizer is an Associate at S&B. She is a professional Bar certified Attorney with a master's in International law and human rights. Her main area of practice is international law, startups and social enterprises. She has been a member of the Palestinian Bar Association since 2019.
Ms.Abu Meizer is known for her research and analytical skills; she previously held many research and advocacy positions in prestigious organizations both locally and internationally.
She received her Bachelor of Laws (LLB) degree from Birzeit University in 2017, and she obtained her Master of Laws (LL.M.) degree in International law and Human Rights from The Hebrew University of Jerusalem in 2020.