Suhaib Sharif
Managing Partner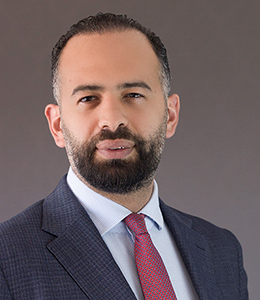 Indiana University of Pennsylvania
Birzeit University

Palestinian Bar Association
Mr. Sharif is the main founder and the general manager of S&B. He is a legal and business consultant, specializing in business, labor, corporate, arbitration and mediation, leasing and investment laws. He has been a member of the Palestinian Bar Association since 2010.
Mr. Sharif's main area of practice is business law. His notable expertise in negotiations on behalf of clients, places him at the forefront of representing local and regional corporations in Palestine and the Middle East, particularly in matters related to structuring deals, negotiating with counterparties and regulators, as well as drafting and implementing transactions and agreements.
Mr. Sharif adopts a sector-based approach which allows him to provide commercial and pragmatic advice exclusively tailored to client needs. His extensive knowledge, understanding and sophisticated skills in corporate and commercial matters as well as his large and diverse pool of social and business connections, enable him to provide comprehensive legal services, connect companies with stakeholders, and construct effective and practical strategies. For example, Mr. Sharif assists in institutionalizing new start-ups and family-owned businesses at a low cost and with a high profit margin.
Mr. Sharif applies his proficiency in data analysis to evaluate a given company's efficiency in terms of cost and benefit and advises on the best human resources management methods and sustainability mechanisms. The high quality of information and feedback which Mr. Sharif provides clients with, allows for sound legal and business decisions and therefore, assists clients in developing clear long-term strategies that ensure sustainability, profit, and business growth.
In addition to providing legal and business services, Mr. Sharif is experienced in disputes resolution and in doing so provides clients with all available alternative solutions and advice on the best approach with which to proceed. For instance, he drafts legal settlement memos to protect the rights of clients and represents clients before the Palestinian courts in various cases such as telecommunication, employment and tort cases.
Aside from his practical experience, Mr. Sharif is a part time lecturer in the department of law at Birzeit University.
Mr. Sharif received his Master's degree in Business Administration (MBA) from Indiana University of Pennsylvania in 2018. He obtained his Master's Degree (LL.M.) in Public Law and his Bachelor's (LLB) degree in Law from Birzeit University. He also attended a special program in civic engagement, participatory governance, and conflict resolution from Syracuse University, New York. He is fluent in both Arabic and English.